Wholegreen BakerY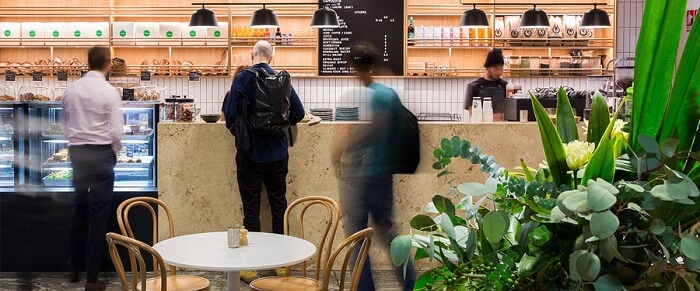 Wholegreen Bakery has reopened! Visit this ground floor café between Monday to Saturday. For all calls, enquiries and bookings, please contact 02 9286 3963.
Monday to Thursday 8:00am – 6:15pm
Friday and Saturday 8:00am – 3:00pm

Over the past five years, Wholegreen Bakery has developed a reputation for creating delicious savoury and sweet baked goods that are also gluten-free. Recently, for example, they won Gold at the Sydney Fine Food Awards for their Lemon Meringue Tart; whilst up against mainstream glutenous entries, proving that it's possible to make gluten-free food taste as good as, or in this case better than, 'regular' gluten-containing food.
In fact, a lot of Wholegreen's customers have no dietary requirements – they come because they just love their delicious, fresh food. But every single thing on their counter is absolutely 100% gluten-free. So coeliacs no longer need to feel deprived, able to enjoy everything from their five varieties of 'proper' bread and award-winning French tarts, to croissants, pastries, pies, quiches and sausage rolls.
"We're very excited to be partnering with Alliance Française de Sydney and opening our second café in such a beautiful space. Croissants and other pastries will be available daily, as well as our usual lineup of savouries and sweets. And we're licensed too, so you can pop in for a quick vino with your meal. We look forward to welcoming you to our new café!"
- Wholegreen Bakery